Hyderabad - Madhapur
Vivero International Pre-school and Child Care at Madhapur offers a holistic and research based early year's education. The central program aims to enrich the child's learning and development for children aged 6 months to 10 years. Vivero's integrated program delivers a premium pre-school curriculum that has already proven itself through its best teaching practices that is combined with excellent child care services. Our exceptional child care offering ensures infants and toddlers are provided with expert care whilst simultaneously engaging in curricular activities.
The school features an outdoor area with equipment's that have been carefully chosen to enhance a child's physical development while providing exciting choices for free play. Purposeful planning, careful thought and genuine intention has gone behind the design and layout of this campus. Classrooms are well-lit, furniture and appliances are child-proofed and teacher-student ratios are respectfully maintained in order to ensure proper attention. The centre also includes an exclusive tech-studio that has evolved from our design to teach little learners how to use technology mindfully and assist them with the knowledge-building, digital citizenship and conceptual learning tools. The light corner enables children to explore light using different mediums like sand, translucent chips and window-blocks spread over the light table and encourages them to work together creatively. Vivero's high-quality standards of safety, health and hygiene is non-negotiable and is evident in every part of our preschool and childcare environments. CCTV coverage, daily temperature checks, 24-hour security, biometric entrance, background clearance on all support staff, scheduled fire drills, weekly deep sanitization of the school, child friendly furniture and resources, and well-trained staff are just a few measures that we strictly adhere to. The Little Lunch room exudes with vibrant happy faces as the children sit together during meal times. Freshly prepared snacks and meals are served to children from our in-house kitchen. A nutritious menu plan is diligently followed, ensuring children have enjoyable, healthy meals in our care. Our team is devoted to providing the families with a joyful educational experience that fosters overall development, and a multifaceted environment where the child is safe, happy, healthy and well cared for by educators and care-givers who have heartfully committed to their professions.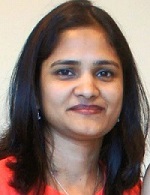 Mridula Ventrapragada – School Head
A post graduate in Computer Science, Ms. Mridula comes with a rich experience in various fields and has worked extensively in India, Germany and USA.
Her experience in Early Childhood Care & Education has led her to believe that early childhood education lays the foundation for life-long learning. The right kind of pre-school plays a critical role in nurturing future global citizens who are capable of driving their own learning. Her passion for children has drawn her into Early Childhood Care & Education.