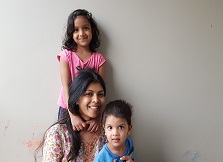 I believe early learning should be focused on helping the child to think. At Vivero, I was thrilled to know how they focus on teaching the children by primarily fostering the child's curiosity enhancing them to think, read, enquire and question. Apart from Math and English which form a crucial part of early learning, the curiosity of the child is kindled in fields of science, technology, cooking, language learning( french) and I was also happy to know that they were taught about the voting system and social responsibility (knowing my rights and my responsibility towards it) and the importance of respecting another individual.
At K2 from where my daughter Saraswati is graduating, the child's exposure is tremendous. The child is encouraged to think creatively and meet new challenges and be confident in their ability to make decisions and above all be responsible for their own lives.
I am happy to have been a part of the Vivero family(would continue to be so with my son going to nursery)and thankful to all the staff who have been very supportive and friendly.
- Vikramadith Raman, Sr.Software Development Manager, Amazon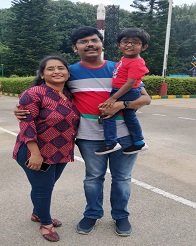 Our 2.5 year-old joined Vivero in Jan 2019. From being pampered and cared to the core by both paternal and maternal grand parents, having a full-time nanny taking care and being in a neighborhood of same language speaking friends we uprooted his setup and brought him over to Bengaluru! There were days my better half Reena & I worried a lot if we even did the right thing for him in his growing up stages, but career demands for us to fulfill!
In the initial days, at least, I saw Vivero more as a day care substitute for my son. I was definitely sure about the facility, care, and safety but I wasn't attached much beyond. My better half was always - she had high regards for the facility. It's been a year now and when I rewind the past year and look at how my son has evolved now, I can't stop thanking Team Vivero for the impact they have had on my son.
From a highly introvert kid, shying away from even looking at anyone eye-to-eye, not speaking more than few words in Tamil & Telugu (our native tongue), to a kid open to face others, socializing and wanting to mingle with his age group, good interest in sports, speaking English relatively fluently for his age, Sai Rishaan's transformation is immense! While Reena and I have invested some time into it, I think the biggest share for in my son's development over the past year goes to Team Vivero, Mahadevapura. Thank you, Team, for all that you do to our future generation! Your care for our kids, unparalleled efforts in running activities for kids, giving them a variety of exposure all within the boundaries & constraints that you may have as a team is greatly commendable! Keep up the great work.
Parents who are looking for a caring and committed facility that can take care of your kid's evolution, you can be confident about Vivero, Mahadevapura.
- Balasubramaniyan KV & Reena Kirupakaran, Parents of Sai Rishaan

Our daughter Inaira has been going to Vivero for almost 5 months now, and we must say we are extremely happy with the school. Inaira loves going to school. She has learnt so much from the time she has joined. The teachers and helping staff are very caring, they look after her very nicely. We were always worried about putting her to a day care because we didn't know how they will look after her, but after joining Vivero we don't have to worry about anything. The teachers give us good feedback about our child on daily basis. We would highly recommend Vivero to anyone who is looking for a good day care for their kids - Ashritha Shetty, Stylist, Flipkart - Sohan Shetty, Member of technical staff, Netapp Parents of Inaira

I got my 2.5-year-old enrolled in Vivero International after an exhausting and deep research on schools in our locality. I am extremely glad that I made the right choice!
My daughter was one of the first students in the Vivero, Mahadevpurabranch, hence she received a lot of personal attention and care, and shares a very strong bond with her teachers and helpers. This bond is strong not only because she has been with the school since the beginning but also because of the teachers who make learning fun and interactive for the kids. I have seen an incredible leap in my daughter's learning curve after she joined the school.
I also like the fact that the curriculum, apart from the learning, also covers field activities, group activities, and periodic activities for parents/grandparents. The staff is very responsive to your suggestions, and your concerns are addressed immediately.
A big thanks to the Vivero staff!
- Rohan Chhazed,

AVP, Zoomcar