As a first time mother, I had some anxiety returning to work after spending almost two years with Alexander during my sabbatical. There was the question on how to plan to get back to work and make sure Alexander is been looked after in my absence. Since he was already enrolled with the Pre Nursery programme, Roywin & I decided to try out the Childcare Programme.
Vivero Childcare has been an extension of the atmosphere that we have at home for Alexander. The staff put a tremendous amount of effort in ensuring that the environment is right, providing all the right kind of activities to help channelize his curiosity and energy and working on making him independent in terms of small day to day activities like arranging the shoes after removing them, independent eating habits.
I'm glad we decided to trust the Vivero Childcare programme. It has been rewarding to see Alexander growing and evolving with these beautiful qualities of being kind, concerned, curious, understanding & empathetic. Our parents & in-laws were sceptical when we enrolled Alex in this program but even they acknowledge the emotional growth in my little boy.
Keep up the fantastic work Team Vivero, Mumbai!!!!!!!!
- Dsouza Family, Parents of Alexander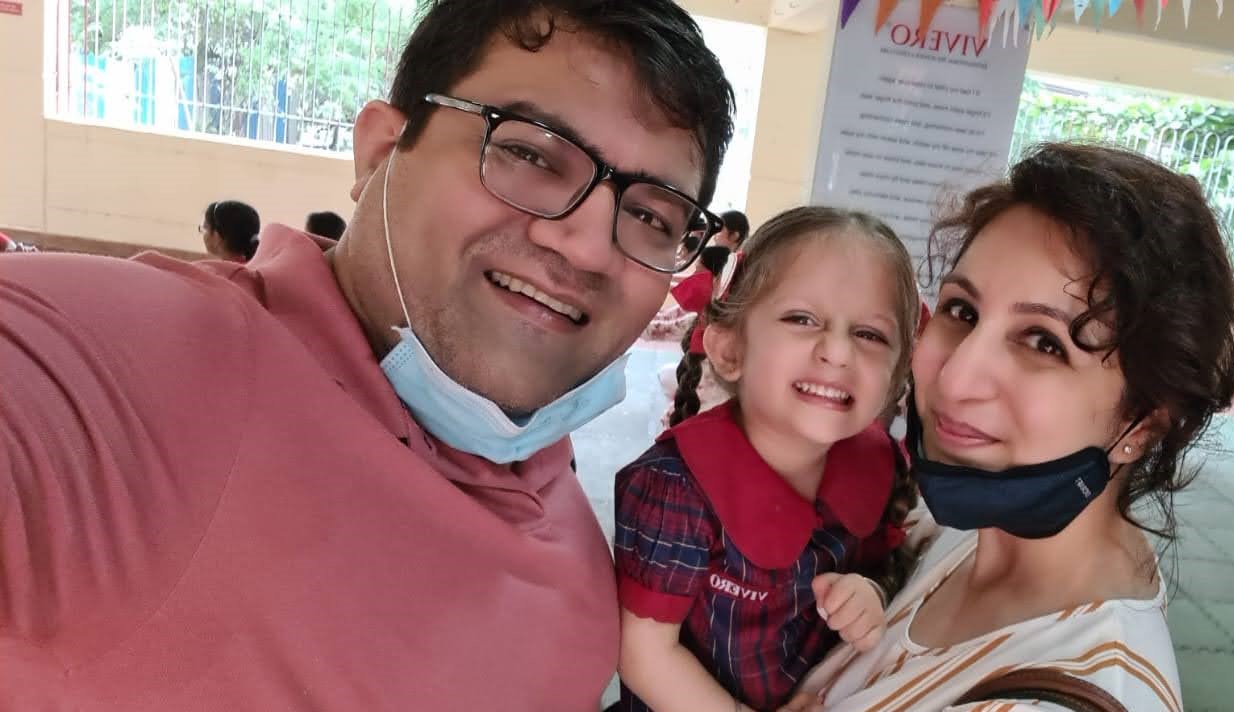 Before the school officially comes to an end, we wanted to personally thank you for the wonderful year.
We have made so many memories and Vihana has blossomed into a strong, smart, compassionate girl under the guidance of excellent teachers and value system. We are so glad we chose Vivero as the entry point for Vihana's education as it has given her a strong academic foundation which is second to none. As parents, the school has simply surpassed all our expectations.
Special note of thanks to her teacher who seamlessly took over mid-term and bonded so easily with the children and parents alike. Compassion and care oozed from all the members of the staff which was shown even in little things like tieing Vihana's hair in stylish braids. We wanted to let you know it didn't go unnoticed and was much appreciated. It's after all, the little things that matter and Vivero put us at ease that the apple of our eye was treated the same in school when away from us.
Surely going to miss the smiling faces in the morning. We wish Vivero, Powai team all the very best.
- Tejal and Dr. Kunal Wani, Parents of Vihaana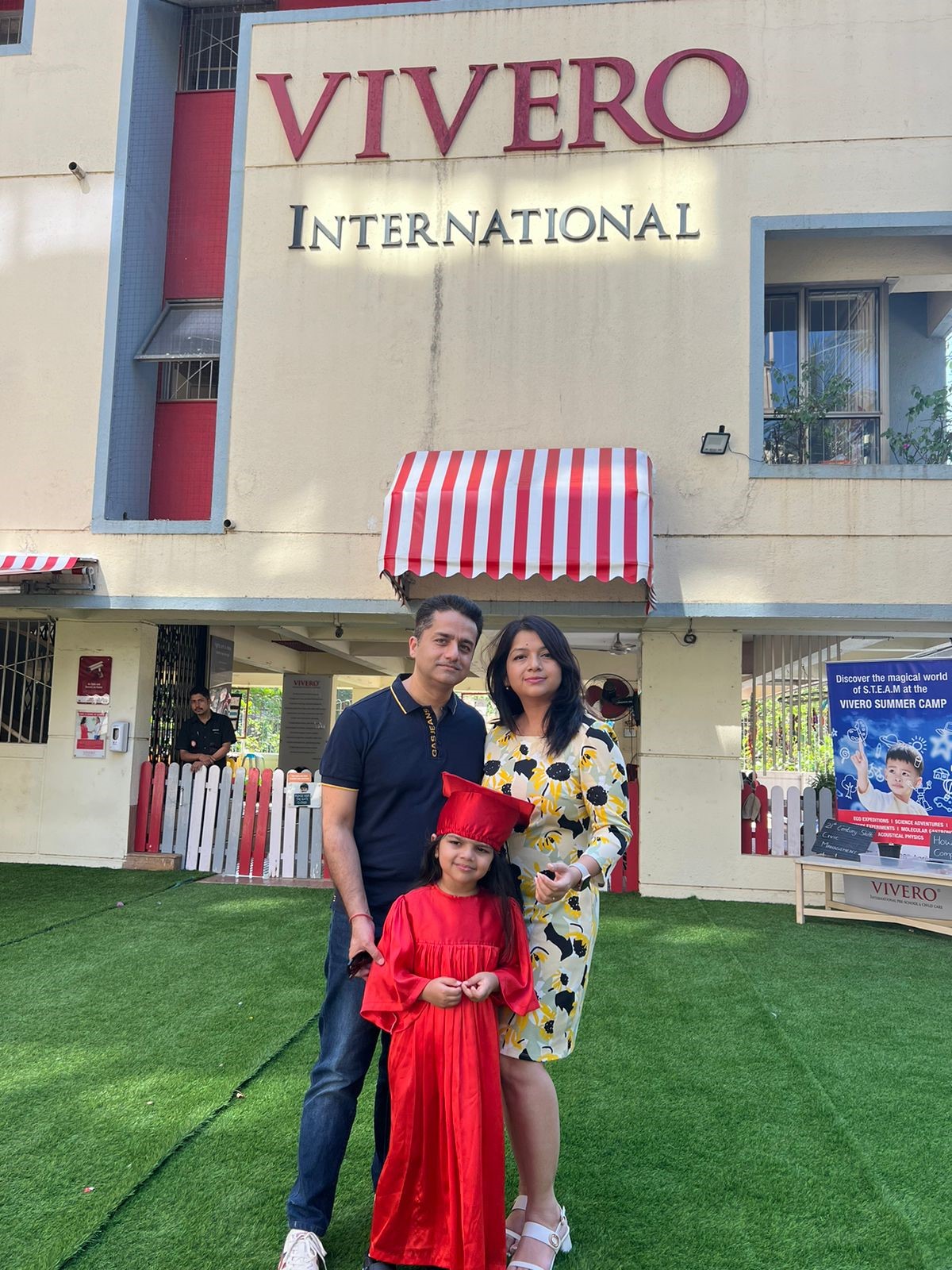 Today as our daughter Amaaya gets ready for her pre-school graduation day, its bringing back so many beautiful memories of last 3 years which have been made remarkable by Vivero. As rightly said, school is the second home of a child, we couldn't have started this journey in any better way than Vivero. Her first class was an online session, (lockdown times) with so much apprehension we started the online classes, which to our surprise became the most exciting hour of the day. Once the offline classes started, the teachers took extra efforts to make this transition smooth. Amaaya loves her school to bits, whenever we went on vacations she would have a little complaint that "though I am loving the trip but I am missing my school so much" … and this statement in its own is a testament on what an amazing environment Vivero is providing to the kids that they look forward to going to school. Not only the school is providing a safe and secured environment to kids but the level of knowledge kids are receiving is exceptional. One day Amaaya asked me "Mumma do you know what is photosynthesis" And i was blown away, how come she knows this word and when she explained further was a moment of awesomeness. Not only she knew the word but she in the simplest way explained me the whole process. This is one of the many moments where we were awestruck. The knowledge which the teachers impart is holistic, numeracy, literacy, science, Spanish, dance, music, global festival and so many more subjects are taught. To conclude, kids are aware of the beautiful world they belong to.
We always wanted the very initial years for our daughter to be warm, welcoming, fun along with constructive learning and we couldn't have made a better choice when we selected Vivero International School, Powai. We cannot thank enough all the teachers and staff for always welcoming kids with a smile. Special thanks to the staff and her class teacher, as her words are the gospel truth for Amaaya.
Amaaya is ready for the next phase of her life and we hope that she is able to transition well in the big school with the same excitement as she did at Vivero.
A special thanks to the day-care team as they have helped us a lot to make the extended stay after school easy and safe.
- Himanshu, Father of Amaaya, K2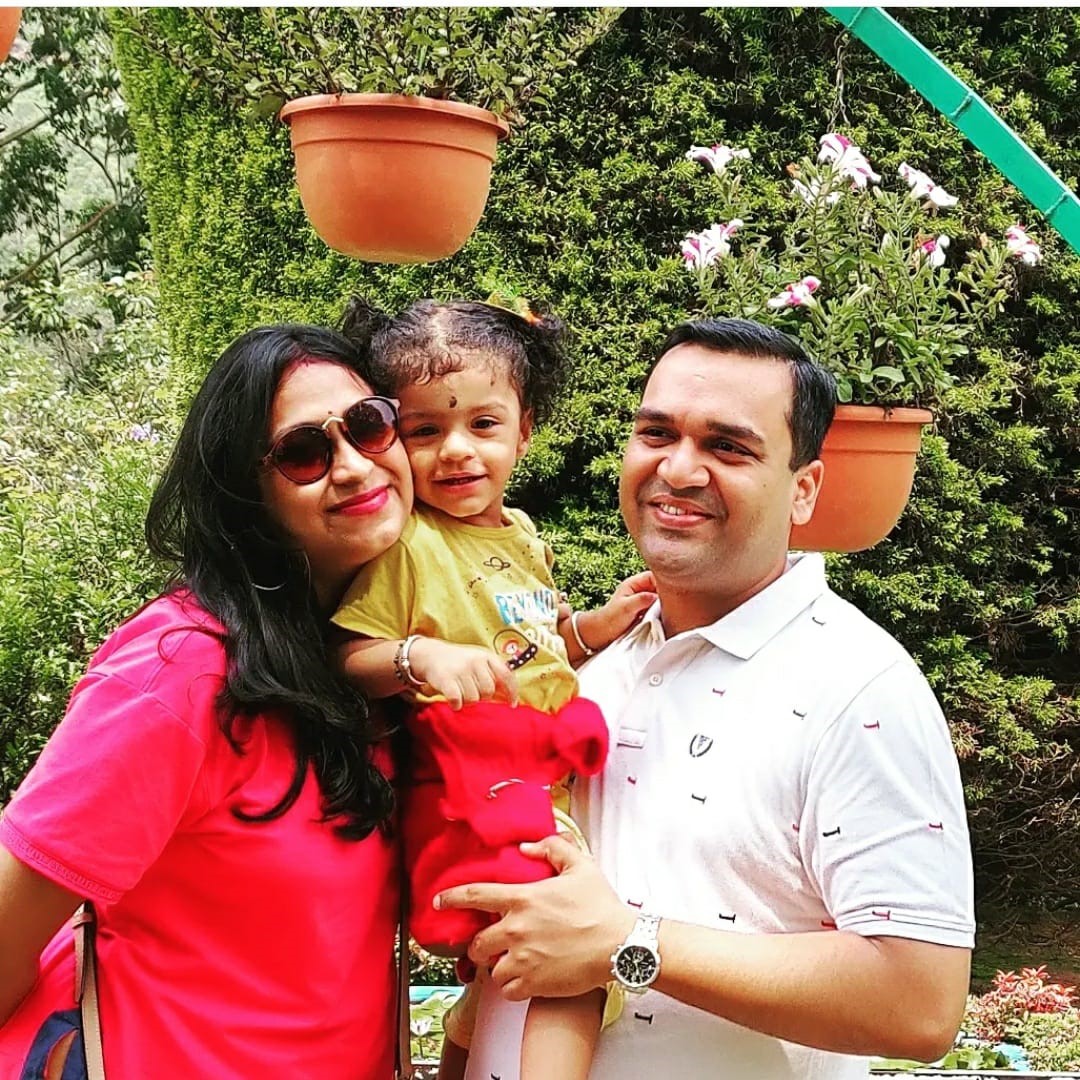 I write to you with an immense sense of gratitude and happiness as parents on seeing my daughter Arnambita's heartening progress in her Academics as well as in her linguistic ability, which was a cause of worry for us given her delicate state of health and the disruptions caused in her academic journey given the Covid-19 situation.
I am really happy for the attention and focus provided to her in class and for the continuous update provided to us by her teachers at regular intervals about her progress and the areas that we had to focus as parents to ensure her holistic growth.
Based on the same, we have started with her Occupational Therapy sessions under the guidance of the respective doctors, and glad to share that the combined efforts have yielded good results towards achieving her developmental goals.
Also very satisfying to learn, given the paradigm shift in the education model with relevance to time and new age requirements, Vivero has been conducting excursions for students making them aware of the different facets of the society which contribute to the overall ecosystem, thereby exposing them at such a tender age, which helps in their overall social awareness and sensitizing them on the importance of nature and its conservation.
Once again I would like to extend my heartfelt thanks to the entire team of Vivero for maintaining such high standards of conduct and teaching , and I am very sure and certain that you would raise the bar of standards even higher in days to come by pursuing it relentlessly and leading the space from the front.
Thank you and wishing team Vivero all the very best !!!
- Mr. Ravindranath, Father of Arnambita, K1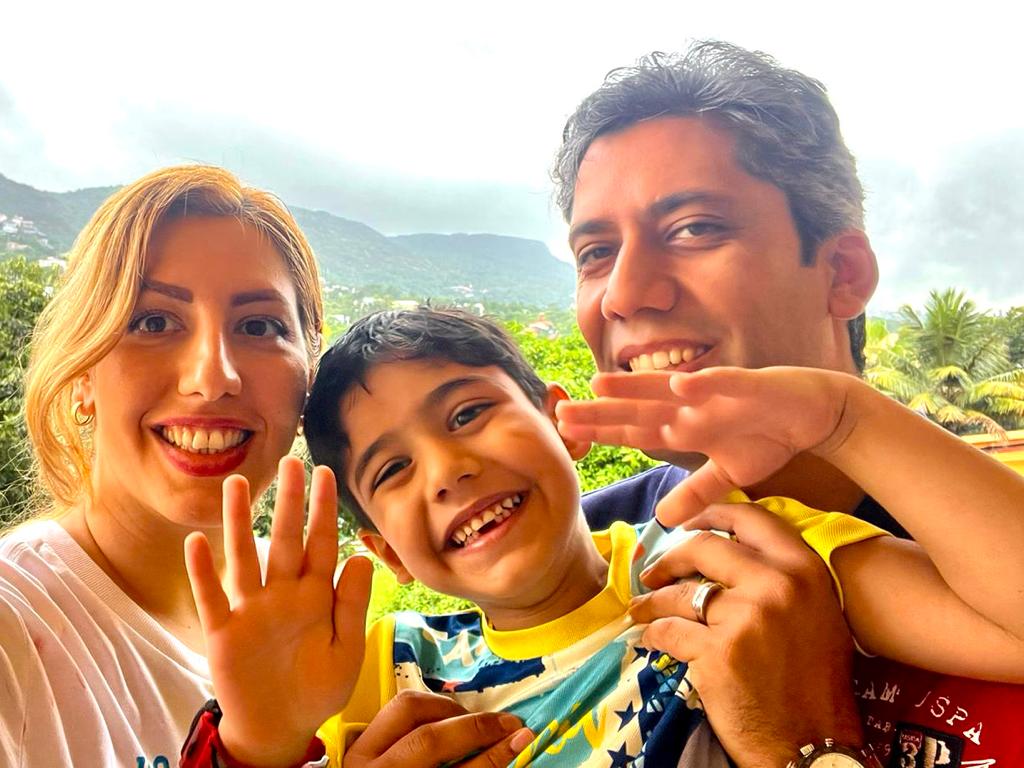 We are Roham Sakaki's parents studying in senior KG. We write this in appreciation towards all the teachers and staff who contributed to this wonderful event. They were taking care of each one of the students' emotions as well as concentrating on the process of the concert. As parents, we can truly understand how many difficulties there would be in managing toddlers. Moreover, every unit had been so well prearranged, it was clearly obvious that children cheerfully participated.
We were amazed to see our child sing and dance so energetically apart from that, my wife had tears in her eyes to see how our son has grownup so fast. The graduation day song gave us the opportunity to imagine our son in a few years ahead.
This credit goes to all of you that were working so hard to make this annual day such a big hit.
Thank you so much for all your efforts. - Payam Sakaki, ARMITA INDIA SHIPPING PVT LTD, Parents of Roham Sakaki, Senior KG
In these delicate early learning years, as parents we want the reassurance that we've made the absolute right choice for our child.
We have that at Vivero.
'The teachers are not only hard working but also loving and encouraging. They aim to provide an array of limitless learning opportunities for the children. The Virtual classrooms are fun, bright and full of engaging possibilities at every turn. They keep the little ones well connected and engaged with their personal interactions which has definitely proved beneficial for their listening and communication skills. The curriculum is the perfect mix of challenging and interesting activities and can accustom a wide spectrum of child's mind at this young age. The music, dance and exercise sessions contribute to the child's complete physical development during these difficult times.
We feel truly lucky to have been able to give our child this kind of a platform and be a part of the Vivero family!
- Akshita and Cuzack, Parents of Naomi, Pre-nursery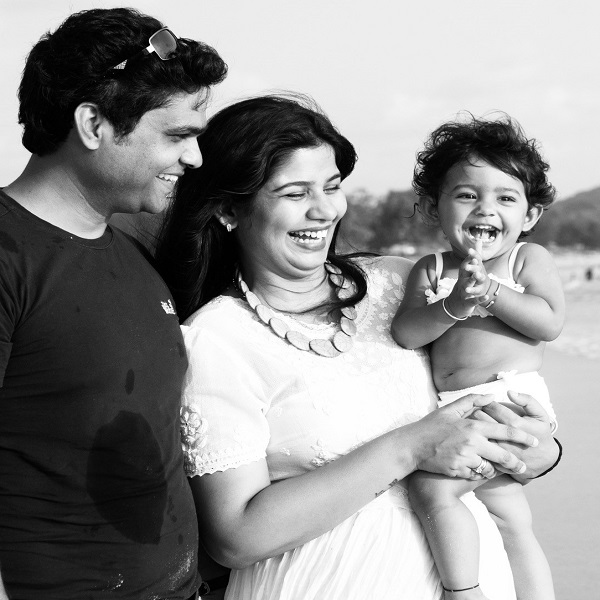 My daughter's schooling initiation was quite a journey for us. We spent a lot of time and resources to look for the right one. At times we felt we were compromising on the quality standards just because we were desperate to get her habituated with the idea of school. And just when my daughter was getting used to a formal physical school, the pandemic struck!
After that, oo matter how much we tried to get her used to online schooling, my daughter would somehow become super resistant to it. She would often become cranky and refuse to join the online classes. So, it was nearly after 9 months of juggling through various online options, that I got to know about Vivero International School, during one of my numerous web searches.
As soon as we enquired, the Parent Relationship Manager contacted us in no time and assured us that we need not worry. She immediately offered and arranged for a demo class for my daughter. We apprehensively joined the demo, and then I saw my kid opening up for the first time on camera - it just clicked!
My husband believes that it was the dance teacher's energy that made my kid speak-up in the demo class.
From thereon, there was no looking back for our daughter, Navya who joined K1 in January 2021. Ever since then, Navya has just progressed ahead without any struggle at all. Vivero's entire team is super pro-active in coordinating, organizing and executing personalized attention as they focus on each and every child's individuality. This allows us as parents to become absolutely comfortable. Initially we were extremely worried as our kid had missed an entire year of formal education plus she had no clue what everyone was doing during these online classes, but Vivero has resolved this for us.
Navya's teacher, hands down is one of the best teachers out there! She is patient, understanding and supportive. She 'gets' my daughter, which is the greatest thing. We couldn't have asked for a better teacher! My kid has gained so much confidence because of her. Navya lightens up whenever the teacher tells her that she is doing a "terrific job."
I have found that Vivero is a school where learning is fun, interesting and exciting. A school where feedback sessions with teachers are not just about how the child is doing in her studies, but also about who the child is. Vivero is all about the social and emotional development of the child. A school which is truly child centric in every meaning of the word. A school where our children can grow intellectually, socially, emotionally and spiritually – as fully functioning human beings. This is what Vivero is for us - A happy school of happy children!
- Mona Kumar & Gaurav Kumar, Parents of Navya Kumar, K1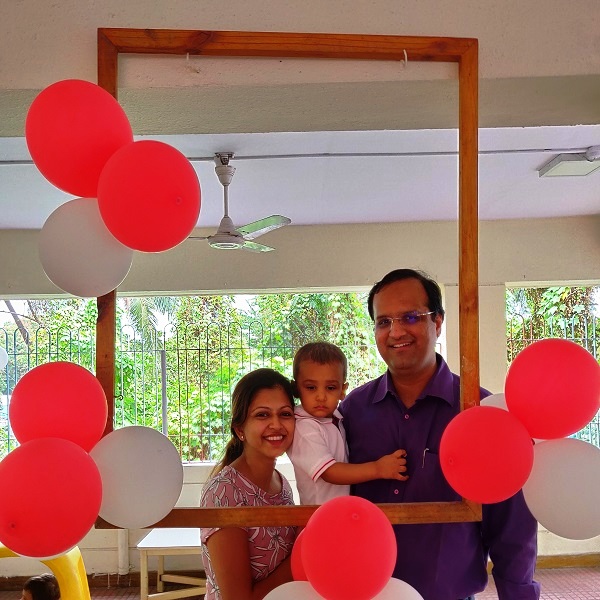 As parents, Aniket and I are more than glad to have chosen Vivero for our son Krishiv. We will complete 2 years with Vivero in 2021 and every learning experience here has taught Krishiv something novel.
While I can go raving about how effective classroom teaching was last year, I can also unequivocally brag about how fantastic our online learning experience has been so far. The iLearn program and the supporting engagements such as extra curricular activities (Krishiv enjoys Spanish) and concept review meetings have been of immense value when we think of what Krishiv is learning each day. From learning to take photographs in different picture modes, to creating his own artwork. From interacting with new virtual friends, to learning how to greet in different languages of the world. From dancing to 'Baby Shark,' to doing Suryanamaskars, Krishiv's experiences with iLearn have stretched way beyond the boundaries of literacy and numeracy.
I vividly remember his first day at Vivero. We could not have asked for a better schooling experience for our little one than watch him blossom into a curious wanderer, creative thinker and expert negotiator who can also (apparently) be sensitive and talk his mind!
- Aniket Kulkarni & Shruti Kulkarni, Parents of Krishiv Kulkarni, Nursery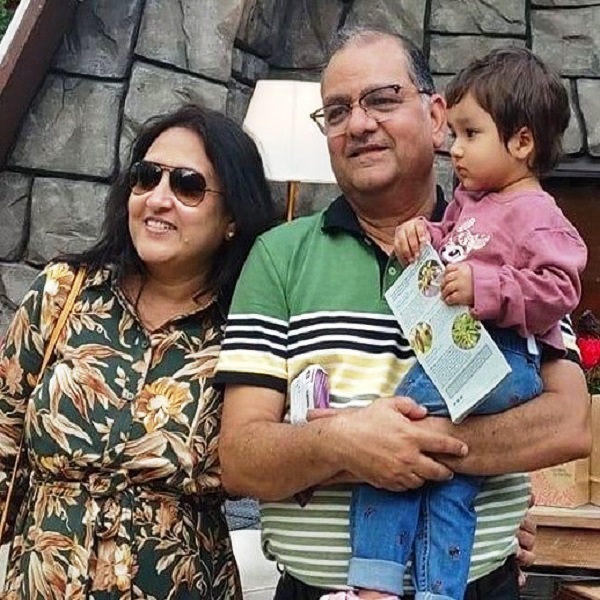 Thankyou Rashvir for such an amazing session. Araina's grandparents are so happy to see her attending such interactive classes and they are thankful to school and teachers for such events which keep kids close to their grandparents in these difficult times when they can't meet her. Kudos to you for arranging this event and managing them all together. we could see the happiness in all grandparent's faces and gestures. Even kids got excited to see their dadi, dada, nana ,nani in the same frame with their friends. I have been asked to write this thankyou letter especially by Araina's grandparents.
Thankyou for having them.They have sent their blessings to you and all the other kids. (in behalf of araina's grandparents)
- Riti Lath, Parents of Araina, Pre-Nursery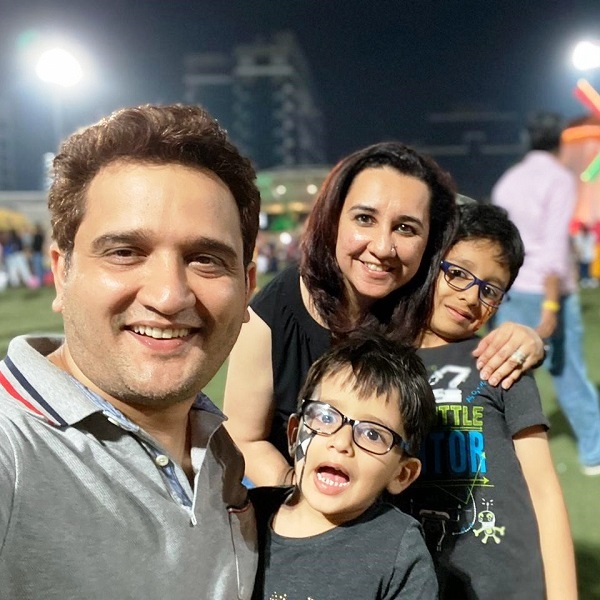 This year has been a challenging one for everyone in their personal and professional domain. As a working parent with 2 small children where school has moved online and that too for limited hours, we had been very anxious as to how this will go. The approach of Vivero's iLearn program has been aimed at giving exposure to all aspects and learning outcomes which children would otherwise have learnt at school.
While the pace and quantum of learning may be reduced due to limited hours of academic learning, it is a combined effort of the school and parents which have to get children ready for "Big school"" after K2.
While I often feel anxious if my child will be ready to take on 1st grade as this is a crucial year where they transition, I am confident about Vivero's intent and effort in this direction and that this will be a combined goal for us and the school.
- Priyanka & Dinkar Pathak, Parents of Kabeer, Kindergarten 2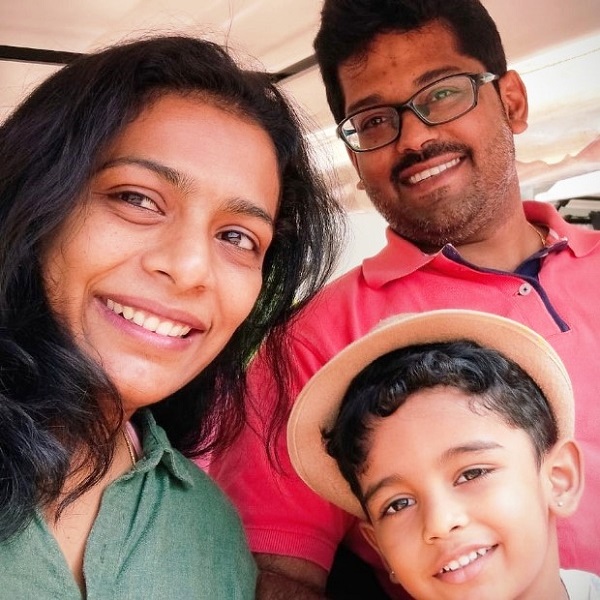 Mrigind has had a wonderful time at Vivero in the past two years, and the iLearn program has just kept his learning process going forward with the same momentum. I am amazed how the focus is on the overall growth of the child and not just finishing the basics. The inclusion of Spanish, dance, music, and culinary and the digital library makes for a holistic approach that was going on at school and also brought to the digital platform. This really put me at ease as I don't have to constantly keep searching for new activities to keep my little one occupied. Everyone has been very responsive to all the feedback given and I see them constantly upgrading. - Ashwin Karle & Shravya Uchil, Parents of Mrigind, Kindergarten 1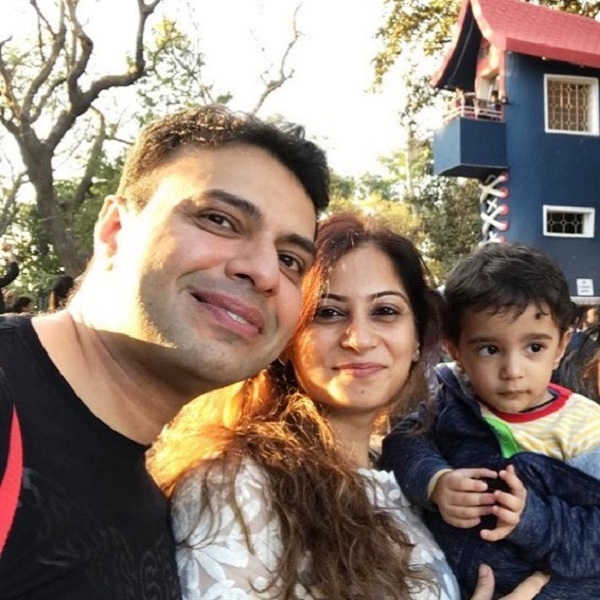 At the start of the lockdown, we were very skeptical regarding our children adapting themselves to a virtual set-up. Will they get the same warm feeling which they were so used to, while going to Vivero everyday .My child is going to be missing on so many things, such as the warm welcome by his Principal, teachers, smiling didis, guard bhaiyas. How as a mother am I going to cover for all this? To my surprise, fairly quickly majority of my doubts were cleared up when Vivero team came up with the "iLearn" program. They left no stone unturned in taking care of the numerous areas of child development, be it, Academics, Music, Dance, Culinary, etc. As Parents, we were surprised to see how our child has gradually adapted to the virtual class room set-up and improved upon his participation day by day. All his teachers have strived daily to create a great bond with him. As a mother, I can truly understand the time and energy the Vivero unit has put in to create a fantastic, worldclass and interactive virtual learning program for our kids. I want to congratulate Richa and her team on the same. We are so happy and glad to be a part of the Vivero family! - Akashpal & Priyanka Mahajan, Parents of Trishan, Nursery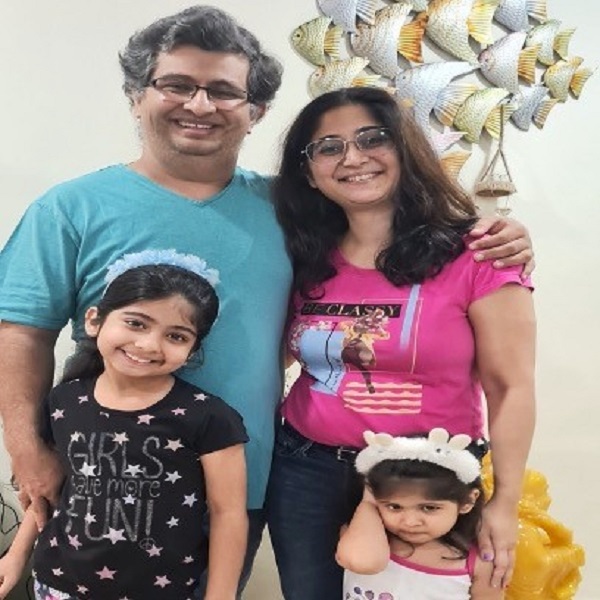 We enrolled Mahi in Nursery directly. Wasn't even sure if she would stay back in class. But she was made very comfortable the very first day. To my surprise she didn't cry and the teachers were very good and welcoming. Have to mention, her Nursery teachers were very good. Having similar expectations, her current teacher has also been very sweet and met our expectations even though it was an online class. It's very difficult to keep kids hooked up online. She's done it so smoothly that Mahi looks forward to attend every morning. We weren't expecting Mahi to sit for more than 2 classes. But her way of dealing with kids online and the interactive sessions with kids has really made Mahi excited and happy every day. She looks forward to seeing her ma'am again and again. Every morning, from 9 am she starts sitting in front of the computer and wants to start finishing her iLearn assignments in advance. All classes are very interesting and interactive, which makes the child feel like coming back for the class next day. Thank you making lockdown a little less boring for Mahi, as going to school was her daily routine and a fun place to be and now she looks forward to seeing and interacting with her teachers and friends online. Thank you all for bringing that smile back again. Your efforts are much appreciated. - Kanhai & Geeta Chugani, Parents of Mahi, Kindergarten 1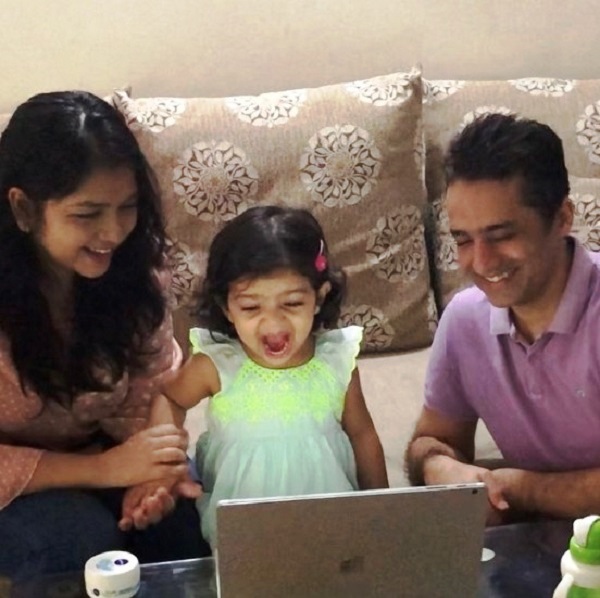 We would like to thank you all for the experience of iLearn@Vivero. After the initial apprehension as to how Amaaya would respond to this new way of learning as she is only 2.8yrs, it was a pleasant surprise to witness how she has adapted to the online mode of education. We are happy to see how she looks forward to meeting her teacher and friends online and is excited to learn new things daily and make them part of her routine. She is equally interested in CCA sessions, especially the Spanish class. One of the best outcomes of iLearn is that we have become an active participant in our child's development and learning process and can witness her progress in front of us. We can't wait for things to get better soon so Amaaya can experience little joys of school like dressing up in uniform, playing with friends, having her own little world beyond home. We would like to thank the whole team of Vivero for curating a program which is able to connect with such small kids via online mode. Special thanks to her Nursery teacher for being such an amazing teacher by attracting the attention of such small kids. Her affection towards children reaches through this distant learning program which was almost difficult to imagine without witnessing the same. - Himanshu & Prerna Manchanda, Parents of Amaaya, Nursery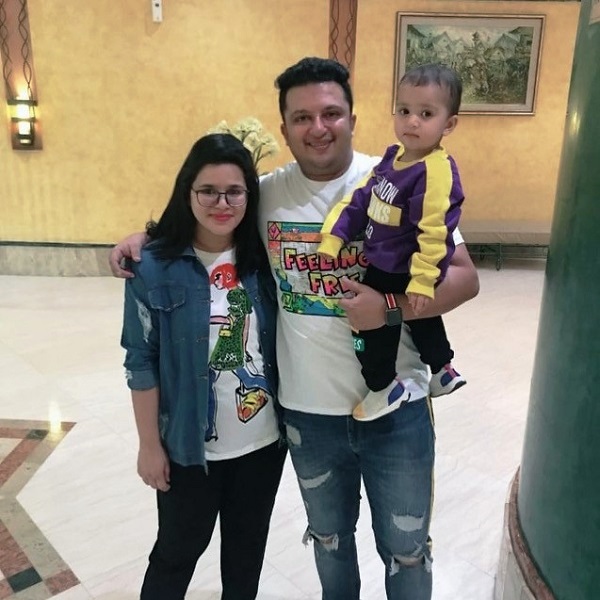 It was our first time enrolling our daughter Alishhka in preschool so we were nervous at first but her Preschool teacher at Vivero is so incredible that she soon made us feel comfortable with the iLearn program. Our daughter is so excited every morning about the online school sessions and she waits for her new friends and the different activities to be performed. She's becoming more social and educated each day. The atmosphere and the learning environment is so optimal where each child gets individual attention. We are very thankful to the principal, Ms. Richa Bhatia for providing a staff that truly cares about and loves my child. We could think of no better place to give my child a head start on life. - Sunny & Rashmi Kothari, Parents of Alishka, Pre-nursery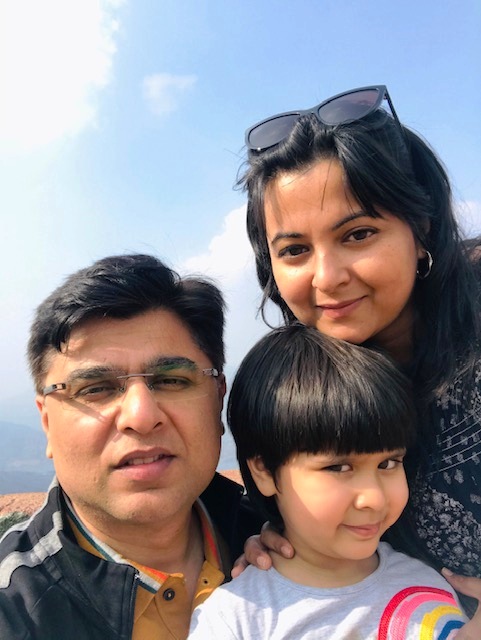 We strongly feel that the School Head and her team of teachers have played a pivotal role in Shanaya's development both in terms of personality and knowledge and we really appreciate that :) Shanaya has been going to Vivero since she was 18 months and at that time we had just shifted to Mumbai, a completely new city for us. (Making it difficult for us to trust any school with our child) After few days, we realised that she was learning so much at such a young age starting from farm animals, body parts, to significance of various festivals and Spanish and that too with lots of activities and fun. (Spanish is one of her favourite subjects now). Not only this, she loved going to school and would look forward to meet her teachers every day, and this continues even today, even in the virtual classroom. The warmth that the teachers, the school head and even the support staff showed to her everyday made us feel that she is going to her second home. Today Shanaya is 4 and such a confident child, with great communication and knowledge, that at times, we feel we learn few things from her. :)
Father's Day Today we celebrated Father's Day, virtually with the Teacher and it was an amazing experience for our family. It was so interesting with innovative games and fun activities that even as adults we were completely engaged. The most interesting bit was the teacher's ability to connect with each child and parent and create a celebratory atmosphere. Kudos to Vivero for making such events a success in spite of the virtual limitations. - Sachin Bajaj & Vidhi Bansal, Parents of Shanaya, Kindergarten 1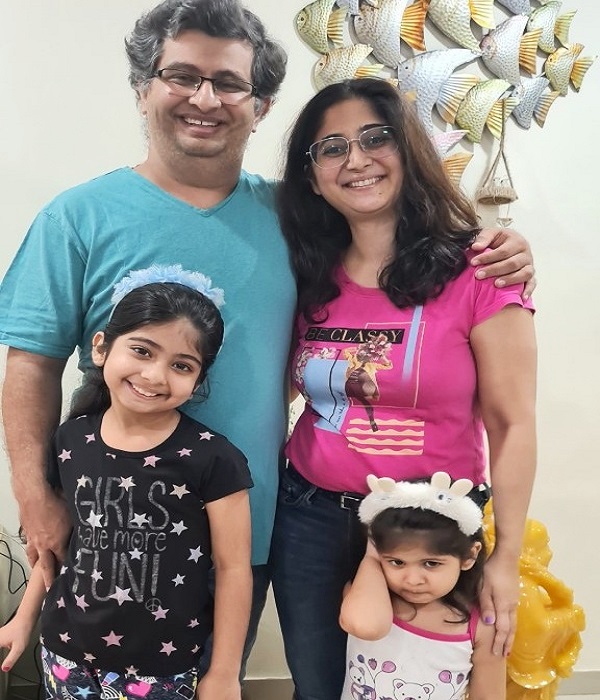 We enrolled Mahi in Nursery directly. We weren't even sure if she would stay back in class. But she was made comfortable the very first day. To my surprise she didn't cry and the teachers were very good and welcoming. Have to mention, the teachers of Nursery Class were very good. Having similar expectations, her K-1 teacher, has also been very sweet and met our expectations even though it was an online class. It's very difficult to keep kids hooked up online. She's done it so smoothly, that Mahi looks forward to attend every morning. We weren't expecting Mahi to sit for more than 2 classes. But her way of dealing with kids online and the interactive sessions with children has got Mahi excited and happy every day. She looks forward to seeing her ma'am again and again. Every morning, from 9 am she starts sitting in front of the computer and wants to start finishing her ilearn assignments in advance. All classes are very interesting and interactive, which makes the child feel like coming back for the class next day. Thank you making lockdown a little less boring for Mahi, as going to school was her daily routine and a fun place to be, and now she looks forward to seeing and interacting with her teachers and Friends online. Thank u all for bringing that smile back again. Your efforts are much appreciated. - Geeta Chugani, Mother of Mahi, Kindergarten 1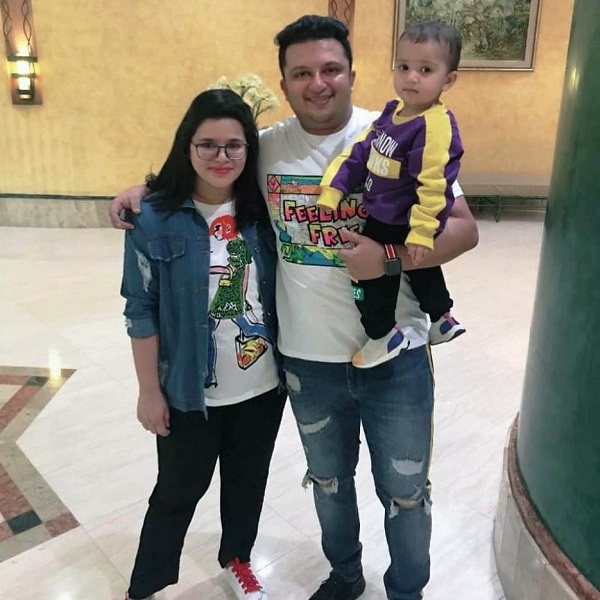 It was our first time enrolling our daughter Alishhka in preschool, so we were nervous at first but her teacher at Vivero is so incredible that she soon made us feel comfortable with the iLearn programme . Our daughter is so excited every morning about the online school sessions and she waits for her new friends and the different activities to be performed. She's becoming more social and educated each day. The atmosphere and the learning environment is so optimal where each child gets individual attention. We are very thankful to the principal for providing a staff that truly cares about and loves my child .We could think of no better place to give my child a head start on life. - Rashmi & Sunny Kothari, Parents of Alishka, Pre-nursery

I had hoped to thank you all in person at the end of the school year but since that won't be possible for awhile yet, I take this opportunity to express my gratitude and appreciation for all that you have done for Prithvi. Being a second time Vivero parent I've always expected the best from Vivero and you all have consistently delivered.
Special thanks to Srividya for the patience and support she has always extended to all the children under her care. It's no surprise that the kids adore her. Shes been a pleasure to communicate with, always pointing out Prithivi's every little achievement to me. I can truly not thank you enough Srividya. Wishing you the very best always.
I would also like to extend my thanks to all the other teachers, didis and security staff. They have all been wonderful.
Lastly, thank you Richa and Kashmira for all that you do. You guys make Vivero the place it is.
Until we meet again,
Thanks- Ms. Chethna, Parents of Prithvi, K2
We wanted to share what a great place Vivero has been for our daughter Tarini.
Tarini took almost no time to settle in at Vivero and that speaks volumes about the genuine love and care offered by her teachers. She also fondly speaks of all the Didi's.
We are left amazed each time when Tarini, who is not yet 3 years old, comes home and casually starts displaying sign language or rattles off difficult words like "Opthalmologist" or breaks into a dance routine or sings a Spanish rhyme or ....the list can go on and on.
A heartfelt thank you to everyone involved at the school for designing every little detail with so much thought. You have helped us first-time parents to also discover the infinite capacity of young children to learn and absorb just about everything from such an early age.
Thank you and keep up the great work.- Radhika and Shubhadeep, Parents of Tarini, Nursery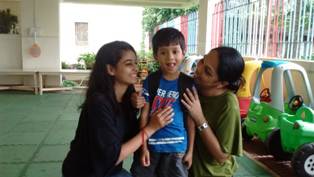 I take this opportunity to once again thank you for giving a wonderful start during the pre-school years for our child and for us as parents. I am as confident of our decision on Vivero as the pre-school as I was 2 years back. I also wish to summarize here some of the key defining features of Vivero, which make it an ideal choice for first-time-school-goers-parents:
1. Partnership with Parents: The pain of moving out of school is felt my me as much as Sanjit and the credit goes to how you have been able to unite parents to work together with teachers for effective upbringing of the children.
2. Transparency with Parents: This gives much higher confidence for parents to know that their child is in good hands and update us on details of activities undertaken every week.
3. Excellent infrastructure and education program: This is a very well balanced program with critical element to create a cultural connect, a social responsibility and international awareness in our children. Play, language, music & dance and skill based activities make it extremely holistic approach.
4. Excellent Resource Pool: And Being able to attract a good lot of teachers is an achievement. Your personal quality depicting the warmth and connect with which you greet children every day, is commendable and a quality to emulate.
We feel there are several milestones that a child achieves during the learning curve and a mixed age group approach allows for better role modelling. Motivated by this, we are keen to expose him to a Montessori approach. Our decision to move him mid-term is motivated by the fact that after K2, we do not want him to directly get into a 1st grade education curriculum as he is an August born. Instead we would like him to follow his own learning curve as he is certainly going to be the youngest in his class. This will give him a bit more time to be ready for the regular curriculum as he grows up. With this, we again compliment you on the wonderful work and wish you the best. Hope that Vivero continues to excel in the pre-school domain and expands to higher schooling soon.- Preeti & Mahesh, Parents of Sanjit, Kindergarten 2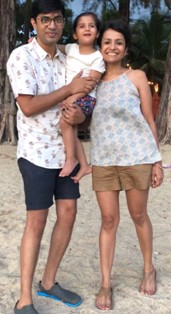 Shraddha and Swara have been phenomenal with the kids, ever since they joined. To be honest, like most other parents, we were concerned when we learnt that Triveni would be leaving. Shraddha and Swara have more than filled up her shoes and raised the bar higher.
Erum loves the time she spends in Child Care, and has numerous stories to tell of what happened through the day. We are particularly impressed how the teachers' efforts have led to Erum taking to new foods and starting to boldly experiment.
The time in Child Care is not all fun and there is ample learning, which is great since it keeps the children gainfully engaged. The teachers have been doing a great job, and we wish they continue to do so with your support.
We, Erum included, thank Shraddha and Swara for all that they do.
PS: A shout out to the didis - Rajshri and Ujjwala, for being patient with our little one.- Ritza and Kartik, Parents of Erum, Child Care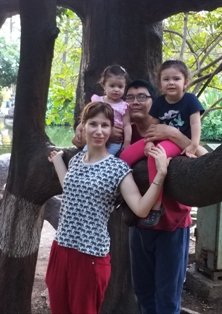 My child started visiting Vivero Day Care, 3 months ago, and she loves it! She is 3 years old and this is her first experience in Nursery. We as her parents are satisfied with everything in Vivero. All teachers and staff, including security guards, carefully follow their job, are punctual and have a good experience. We also like that there are lots of activities for kids through out the day. As we are foreigners my child did not know English at all before going to Vivero, now she started speaking and learned a lot of words. My child comes home and keeps asking when she will go there again. So, we love Vivero, and wish all the best and thank you.- Ortikboeva, Mother of Yasmina, Child Care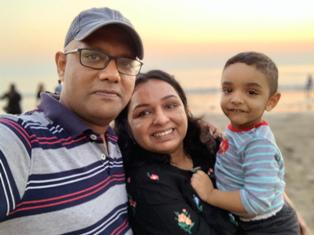 We enrolled our son Riaan into Vivero International both school and day care when he was two years old. I cannot thank the staff and teachers enough for taking extra care to ensure each and every child is attended to.
The school/day care maintain a high standard in their hygiene and their attention to quality in every aspect of child care. All the teachers and staff are very friendly and patient and they are available whenever we want to talk about our child's progress. We get weekly updates on the activities held in the class.
Riaan loves to go to school and is very happy there. I would recommend Vivero to all my friends who have young kids.- Sujit Joseph John Kattoor, Parents of Riaan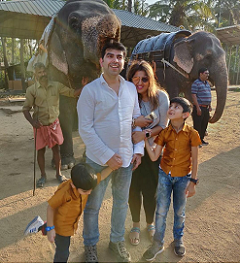 Kabbir has had the time of his life at Vivero International Preschool, Powai. I couldn't have imagined myself settling here in the city if Kabbir had not been comfortable at school. As new residents in Mumbai, we were happy to see the school taking proper care of our child and even pampering him like their own. Vivero has made him learn real life-lessons and helped him become more independent and social. We as parents have also become a part of the Vivero family through the course of Kabbir's schooldays. As we now head back to London, we wish the school and teachers all the very best for the future.
We cannot leave the country without meeting all of you personally to bid Goodbye!- Supriya & Ravi, Parents of Kabbir

I am happy to have found a childcare where I feel my child is well taken care of and loved. Meher had been going to another day care for 2.5 years prior to joining Vivero and hence she had major withdrawal when we shifted her. But the Vivero teachers, were extremely warm and patient with her and very soon she was in love with the place and was looking forward to going there. They never had even a hint of irritation in their voice even if I called up multiple times to enquire about my daughter. Meher also enjoys the activities held there and we look forward to hearing her stories & songs and also receiving small bits of craftwork at home. The didis do a wonderful job of caring for the children. Thank you for providing a safe, educational and fun environment during the last 3 months that Meher has been attending childcare.- Shruti Tulsyan, Director, Supply Chain Finance, Commercial Banking - Standard Chartered

I would like to thank you for taking the little ones through the effect of having colas and importance of staying healthy.
Also, showing them what the real world is and that includes special children. It not only gives them a broader perspective but also widens their EQ in including all and treating everyone equally. I am very appreciative of the fact that, at the right age, these values are being inculcated in school and I am only happy to say that it eases out a parent's efforts in reinforcing these facts and values in little one's impressionable mind. Great work and hope to see more of these sessions.
I believe that EQ, if cultivated at the right age, IQ need not be worried for.
- Tamanna,

Vihaan's mother

It was 2 years ago, when I had first heard of Vivero and visited the school for my twin boys - Aahaan and Ruhaan. Between countless options that exist for parents in the pre-school space, I must admit, like all parents we were confused. But the PRM's warmth & professionalism, interactions with the School Head and the overall upkeep of the school premises took Nishant and me less than 5 mins to select Vivero as the first school for Aahaan and Ruhaan.
From the 1st month of clinging, howling and refusing to let go of me to then confidently performing on the stage in front of hundreds of parents on the annual day, I have seen my boys come a long long way. There are many stories of transformation in just a year that I can narrate becoming fluent in English, talking to absolute strangers, mingling with kids outside of each others company, narrating stories with so much enthusiasm & imagination, tracing MF Hussain's art forms, are just a few indicators of the progress (over and above academics) I saw in both the kids.
Vivero has been instrumental in shaping the early years for Aahaan and Ruhaan and their class teacher has been such a rock solid support in their formative years. I credit her and the support staff for making sure that kids felt safe, happy and fell in love with the idea of school. They miss Vivero so much so that every time we pass the school, they insist to go and meet their class teacher.
I must also congratulate the School Head for leading the school team so effortlessly. Even when there were teething issues with continuity of teachers at school, I am glad that you didn't buckle under pressure and kept quality as paramount parameter for selection of teachers. It was a result of that resolve that a good teacher became their class teacher and has had such lasting impression on their minds.
Even though the boys aren't continuing at Vivero in Jr. KG, they are taking all their experiences from Vivero to their next school. I continue to recommend other parents to Vivero and wish that you are able to extend to K-12 model soon enough. - Mridvika and Nishant, Aahaan and Ruhaan's parents (Nursery)

At the end of a chapter - one always looks back at the beginning... Today as Vihaan is near to completing his third academic year at Vivero International, Powai, I look back at these 3 years and marvel at how much he has grown during his time at this wonderful school.
I still recall that as first-time parents, Ashwin and I were looking for certain characteristics when considering schooling for Vihaan - uppermost on our mind was safety, hygiene, a caring, friendly and happy culture and most importantly the right teaching environment which would encourage Vihaan to learn and learn-to-love learning. We had heard of Vivero from other parents and the feedback was strong and favourable.
I still remember that first meeting with the School Head – everything she had to say resonated with the parent in me. She asked compelling questions that we as parents are always caught between – one that I recall was "do you want your child to become proficient in knowing his numbers and alphabets or do you want your child to understand these as concepts, grow to be confident and enjoy learning?" (Needless to say, our choice was clearly the latter).
The year that followed when Vihaan was in pre-nursery brought its own set of challenges for us – I could see that Vihaan had a clear preference for the doting-individual-attention-atmosphere at home and continually tested our resolve in sending him to school. Vihaan's class teacher, paradoxically told us that Vihaan displayed no reluctance or resistance to being in class once he was in. So with her encouragement - we grit our teeth and stayed the course and in time he grew comfortable and looked forward to going to school. The following year when he was in Nursery, we saw that he was much easier and settled in quickly with the school routine.
In 2016 when he started Kindergarten, I was delighted that he had the same teacher as his class teacher once again – I could see how happy she, Vihaan and other children that had been together in Pre-Nursery, were - at being reunited, which simply affirmed my faith that this too was going to be a wonderful year. All through this academic year, I have loved hearing Vihaan speaking confidently at home about all that he has learnt in class – from Global Warming to the importance of growing plants and trees, lifecycles of a butterfly, mosquito and a frog and so many other concepts that we as parents and our extended family are simply amazed. Thank you for keeping the content of learning so relevant and practical and my special thanks to the class teacher and other co-teachers for teaching them so effectively while keeping pace with learning numbers, alphabets and the like.
I would also like to take this opportunity to thank you – School Head, PRM for all your unstinting support and enthusiasm. You keep the school anchored and give us parents the sense of solidity with your involvement in all events through the year. It has been a pleasure interacting with each one of you.
Finally my congratulations and thanks to all of you and particularly the class teacher for a truly wonderful annual day! I loved seeing Vihaan on stage and can only imagine the patient hours that the teachers must have put in to teach him and others in his class their lines as well as the dance. Vihaan was thrilled with his performance - as were we :)
We will always cherish and treasure the time Vihaan and we have spent here at Vivero – Thank you! - Vinita, (Mother of Vihaan)

Heartfelt thanks to you and Vivero for the show which was put up on Sunday! We, as parents were especially proud of the hard work you put in through the months on Vivaan and it was a heartening moment to see him narrate with such confidence that day. I was so anxious especially after last year when he injured himself on the dress rehearsal day and was praying that this year goes off well…I'm not sure Vivaan realizes what a big deal it was but the many compliments made me feel so great about being his mom! And none of this would have been possible without your unending confidence and support for him. So many children spoke with so much poise. Please congratulate the entire staff and support team from us parents! Look forward to spending our last year with Vivero, it's been such a ride for the last 3!
- Priyanka Pathak,

Senior Vice President - Human Resources,Religare Finvest Limited

It was indeed a pleasure to see our ward, Sianshi perform during the Annual Day Concert. This was her first public appearance from Vivero and she did sparkle like a star under you all. Her confidence is high and we see a talented Sianshi ready to take on new challenges without any hesitation.
We found something very good and unique during the full performance, it was worth appreciating that you kept comfort of the kids above the performance itself. Saw kids performing at ease rather than under pressure/compulsion. No harsh reactions towards kids who may not be keen generally to perform on that day. This shows how sensitive you and staff is towards each kid. Even by not riding the whole performance on few kids or making them the star you made each one of them believe that being on stage is more important than performing.
We enjoyed the day a lot and are very happy with the way Sianshi is moving ahead under your guidance!!
- Siddhesh & Shilpa,

Parents of Sianshi

I take this opportunity to Congratulate the School Head, PRM and teachers for doing really good work this year. This year and particularly last few months have been such a great delight in all aspects. Some of the areas I feel, Vievro Powai has done excellent work:-
Educational/ Environmental Concepts shared with kids
Over-all health & hygiene focus (controlled AC usage)
Look and feel of the school & surroundings
Involvement with parents.
THANK YOU for taking such good care. Please keep this UP.
- Pramod Kathuria,

Father of Shaurya Kathuria, Nursery and Child Care

Thanks for a lot for the lovely experience on the annual day ... We are awestruck how grown up our kids are and so much they are accomplishing in the school under ur guidance. U have not only encouraged them to come forth but also the kids had awesome fun... My son could not contain his happiness of being on the stage and he told me mama don't try to hold my hand wen i go by u, Not on the stage. I was so surprised by his confidence that the toddler who last year needed me to hold his hand and be there for him , and in one year so much of attitude is oozing out of him. This is all due to your discipline as well as installing self confidence in each and every kid. We are so lucky to have you. Thanks for everything and cant help smiling thinking of all the fun our annual day was with such pretty costumes and cute/happy faces. And one last special thanks for keeping our kids well fed.... :)
- Roma Bahl,

(Vivero Parent)

We want to congratulate you all for the awesome annal day celebrations and we were amazed to see how beautifully and gracefully all kids have performed on the stage and of course this would not have been possible without your efforts. The event was very well organized., full of information..well timed..with such lovely and enthusiastic kids!!! We would like to thank all of you for your time and efforts..!
We always thought Saadhya is stage shy and might not be able to deliver her dialogues infront of so many people.. but we were surprised to see how beautifully she delivered her dialogues with lots of confidence and clear words!!! We never knew she could dance so well since she never showed interest in any dance classes offered to her.
Thank you so much for exposing her talent infront of us.. and we indeed feel proud when post event we were poured with compliments for saadhyas performance on stage!!
Thank you is never enough for your tremendous and continuous efforts !!
Jasleen Teacher- You Rock!!
- Sonal & Sachin,

Parents of Saadhya Shukla

I wanted to take a moment to personally thank all of you for doing such a tremendous job of preparing our children for the annual day. It was a proud moment for all us parents to see our children perform so beautifully. But especially for me as Sanaiya loves her music and dance, but I had no idea she would come out of her shell and express herself so well in front of a large audience.
The credit goes entirely to her teachers for making her feel comfortable, confident, and enjoy her own abilities and share them with all of us.
I truly appreciate all the efforts put in by Anju, Dipti, and Lakshmi didi and also for all the other staff and teachers for encouraging our children always.
Thank you so much and we hope to have more such extraordinary experiences when we enroll Ariyana into Pre-nursery :)
- Shikha Arora,

Industrial/Organizational Psychology, Florida Institute of Technology, Mother of Ariyana

We as parents thoroughly enjoyed the annual concert. Everything from the lighting to the background music to the songs chosen for each class was so well done. The costumes were just spectacular!As much as we enjoyed our child's class performance, we were amazed at the confidence displayed by the older classes and were entertained throughout the show.
Kudos to your staff, your didis and your management for a fantastic show.We are proud to be sending our child to your school.
Thank you.
- Pooja Manik,

Mother of InayaManik(N2)

I'm writing this mail to you with joy in my heart and with a tear in my eye. Last June when Aesha joined Vivero, we were so apprehensive to let our little heart step into the big bad world. We were not sure how she would react and how the teachers would handle her. Would they treat her with as much love and understanding?
But the year that followed only brought us joy as we saw Aesha bloom into a confident happy girl who was eager to meet you everyday in school and who didn't want to believe me when I told her school is closed on weekends.
She looked forward to your encouragement and your love and all the learning you brought into her life through lots of play and was never disappointed. She found a home away from hers.
We have known how much of your time and effort you have given to all the children in the class and how you even reassured me that things would be okay when we faced small hurdles. I'm ever thankful to you for always taking out your time and guiding me at those times.
Today, when we watched Aesha confidently dancing on stage as an over enthusiastic little rabbit, I couldn't help but look over the year that's passed and couldn't have been prouder of my little dynamite and rock star! We could see all the effort put in by the School Head and the teachers in the last few weeks and the carefully thought of choreography, appropriate for all our babies to enjoy. The care you took to ensure that what they wore was comfortable and that they were super happy backstage, is applaud able.
I want to thank you for the major role you have played in turning my little bud into a beautiful flower who stands proud,happy and confident of who she is.
Thank you and thanks to Vivero and the entire Vivero family for giving us a memory etched in our minds that will always bring joy, happiness and pride to be a part of the Vivero family. We couldn't have been happier.
Thank you!
- Ruhina,

Mother of Aesha, (Pre –Nursery)

We spoke last week and although I have already communicated verbally about how glad and sorted I have felt the way the entire academic year has shaped out for Paarth,I thought it would be good to pen down my feedback so that it can be shared easily with the Vivero staff.
I would like to take this opportunity to thank The School Head, class teacher, PRM, all other teachers and support staff of Vivero International for an excellent well-rounded academic year for my child(Paarth Jain).
Our association with Vivero started in 2015 when Paarth was 2.5 years old and started attending Nursery.The first day of his school was full of excitement and devoid of any apprehensions.I still remember Paarth saying this "I had a nice time at my school" the moment he met me after his first class was over. That was one of the happiest moments of my life because I suddenly realised that by choosing Vivero, I have made just the right decision for my child. Ever since,Paarth has been very comfortable and misses school over weekends and vacations. Behind the creation of this safe, secure,clean, warm, caring,friendly and learning environment for its students lies the Vivero's dedicated and super-efficient team who leaves no stone unturned to nurture and help every student grow to the best of their abilities.
We all know a school is what it is because of its teachers, students and infrastructure. And for a student of this age group,it's the class teacher who is playing the most important role in his/her life because most of all the productive learning hours that are being spent in day are with their teachers.I was once drawing an analogy that like for a corporate employee like me, my manager is my company; similarly, for a student, his/her teacher is their school.
I cannot thank his class teacher enough for such a smooth, beautiful year for Paarth at school.She is just the best teacher any child can ever have, and I feel Paarth is blessed to to be a part of her class. A very warm, receptive,enthusiastic and caring individual-she is very approachable and makes learning fun and effortless for her students.I love the way Paarth looks forward to taking out his homework book from his bag, finishes it on his own and keeps the notebook back in his bag without even telling us. All the kids love her because they know that their teacher loves them genuinely. The Class Teacher is a gem of a person and Paarth is going to miss her bigtime when he goes to his next class.
I want to thank the PRM too for all the support she has lent to us over the last two academic years.She is extremely helpful and approachable and makes sure all our queries and worries are resolved in a very efficient and professional way. It has always been lovely interacting with the School head and thank you for being always there,managing things so well.
Looking forward to yet another enriching and fulfilling year with Vivero.
- Priyanka Jain,

Mother of Paarth Jain (K1)

We have been part of Vivreo family since 2014 .My daughter completed her preschool with Vivero International and now my son has joined Vivero school in pre-nursery.
When we heard that Vivero is starting a daycare facility, we had no doubts in further continuing our association with Vivero Daycare.
We knew Vivero daycare would be an extension of the Vivero schools and wouldcarry the same values and beliefs in childcare -its clean& safe facilities , well established curriculum and most importantly personalized attention so that I can concentrate on my work without worries and I found all that at Vivero Daycare.
With best wishes for flawless Day caring
- Prachi Walia,

Mother of RudrakshWalia(Pre-Nursery)

Vivero day-care has been great for our family. The staff was sweet and helped our daughter and us through the transition to a day care environment. We already love the facilities at Vivero and it's incredibly convenient since our daughter goes to school here as well. The familiarity of environment and familiar faces also helped our daughter to adjust faster to the change in routine.
- Akash Saxena

Heartiest congratulations. The ISO certification is truly great and I trust our kids to be there. Most of the people might ignore it but I am into cyber security and auditing so I know this is very good for Vivero and the kids going there.
Thanks for taking good care of my son, VEER. He loves to go to school every morning and missing it a lot in Sydney.
- Vikram Sareen,

Veer's father

As Inika's two years at Vivero come to an end, I'd like to express my heartfelt gratitude to the school. The class teacher has a gift of being able to treat each and every child as an individual, helping them learn in the way that they best learn in their own unique style and you do this while seamlessly ensuring you carry everyone along on the learning journey together. The way you are personally invested in every child's success is simply amazing and very very rare. Vivero and all the children who have had the opportunity to learn from you are privileged indeed (Inika doubly so since she had the opportunity to be in your class for K1 as well as K2) and I feel happy knowing there will be others who will follow and benefit from this wonderful gift.
I can only wish we could continue with Vivero for primary school as well.
The support that we have received from the PRM right from the time we came seeking admission, the involvement of the School Head in the day to day operations and parent interactions, the zeal and commitment with which the fiestas and fetes are conducted, the wonderful example of collaboration that the teachers of Vivero set for the children and above all the way the administrative as well as teaching staff are easily accessible and approachable - all of these make Vivero a warm, open and inclusive environment and most certainly set the school apart from others.
For Inika, Vivero is a place as safe, secure and comfortable as her home - a place where she learns and expresses herself without inhibitions and knows she is loved for who she is. While she is certainly going to Miss Vivero sorely, I now look forward to Inika's sister starting at Vivero when she's old enough!
All the very best to all of you.
- Shruti Bharadwaj,

Mother of Inika

Many congratulations on the ISO certification. We are happy to be with the school for another academic year. Every year the school continues to grow positively. Please can you share if the management has planned to expand the school to cover higher grades beyond K2. It would be lovely if that is factual.
- Hena Saxena

As parents of a Vivero child, and on behalf of many, we would like to thank you and your entire staff, as well as support team, in making such a huge positive contribution to our children. The annual day was a reflection of your sincerity as a school and hard work put into anything that you take on.
There has not been a day, that Trisha hasn't happily gone to school. As she is growing and turning into her own person, the influence of the school is what we are grateful for.Special mention to the teachers for their dedication, care and love towards the children. Thanks to them, Trisha has learned a lot, without the burden of learning.
The caregivers have been incredibly warm and gentle. Ourask from the school was a loved and safe environment for our child. The School Head had promised us that and you have over delivered on this. Thanks.
- Anuj and Surbhi Varma,

Parents of Trisha

The exhibition cum sale of the Recycled goods was such a hit,both with Shravya and me.Both of us had a blast.What a wonderful way to teach children about the essence of 'Reduce Reuse Recyle'. It was a pleasure to see them manning the stalls with such confidence, using their communication, math,writing and might I add sales skills.
- Shweta Bhandary,

Mother of Shravya

I would like to take this opportunity to thank everyone at Vivero International Powai to make my son,Audav's experience at Vivero a very memorable one.
Though he has been in this school for a short period of three months, he was made to feel comfortable from the very first day and he took an instant fondness to everyone there.
A special mention to the efforts put in by his class teacher and the class assistant who have always been very patient, warm and dedicated which has only enhanced Audav's learning experience.
Also would like to thank the PRM,our first contact at this school, after meeting whom we instantly knew that Vivero would be the right choice for Audav's school here in Mumbai.
Thank you all for your efforts. We really appreciate it.
- Ratika Dhawan,

Mother of Audav

The kids in today's times believe that everything is easily available and easy to be bought like my daughter says "just order it online". For us, parents it becomes a very difficult job to explain why it's not the right thing to do for various reasons.
For last one week Lavania has been excited about an exhibition. This is what I saw yesterday I saw confident little minds. I could feel a sense of achievement in the way they spoke about their work even before they had sold their art.
Thanks to the class teacher, I can explain to my daughter that IT TAKES Planning, Hard work, Discipline, Presentation, Teamwork to create something. One simple class activity has given the opportunity for kids to absorb so many important values for them to become responsible citizens of tomorrow.
Thank you for being such an important influence in my daughter's life. I really wish I had a teacher like you.
- Prachi Walia and Sumit Walia,

Parnets of Lavania

Wanted to share with Vivero teachers about one activity we did as family on this new year. We made a list of 10 things we are grateful for the year 2015. And guess what?
The topmost and common amongst all lists was - Good teachings to Athena from her teachers.Let me share with you, why?
We were on a family vacation for Christmas and we found Athena to be so good at social interaction and manners with people around and for the services we were getting.
She is at her best when someone needs care or attention. She is always alert about another person's requirement and tries her best to provide so. Athena knows how to take charge of a group of kids. You have added immense knowledge in the past few months. Found her relating to things with shapes, colours, opposites etc. She composes songs and also enjoys singing to the casio.
She would not litter in public areas (home - she takes for granted ). Takes pain to find a dustbin even if far away.
Her language skills specially English along with Hindi, Marathi has improved a lot.
We found her to be best at communicating with others through expressions. We are really proud of our decision to enroll her in Vivero.
- Kavita Ghose,

Mother of Athena

I felt blessed to be a part of this warm and affectionate event and to see my little granddaughter InikaTyagi, student of K2, enjoying herself so much in the homely environment of the school.Very rarely do you see such bonhomie and ease of communication between the students and teachers. This kind of equation is so valuable in the child's formative years. Hats off to all of you.
The Grand parent's day was really a grand one for me and as I could see for the other grandparent's too, the teachers were so courteous and warm and the activities of decorating the badge and dancing , the photo shoot and the other games were very enjoyable and interactive and helped to bond. All of you had put in a lot of effort to make it happen.
The snacks were refreshing and the visit to Inika's class was such an educative experience. Inika proudly showed me around the class along with her class teacher. I was impressed with the involvement and engagement that Inika displayed towards her class and her teacher. Kudos to all of you for nurturing the little ones so lovingly.
- Grandparents of Inika

As I begin to write this email, I must confess I'm not very good with speaking from the heart & being truly expressive of my emotions – something that my wife Simrata would love to change if she could, but that's for another time. This email is to instead, with all our heart, THANK YOU and your team at Vivero International for making a time which I can only describe as the most apprehensive of our lives (parenthood does introduce one to, along with the indescribable joy of bringing up children & their little fun things, also previously inexplicable fears and apprehensions) to not only a calm and joyous one but also one that we'll cherish for the rest of our lives. For that and much more a BIG BIG THANK YOU.
I'll rewind to May 2014 – after moving to different cities in different countries in a short span of time, and as apprehensive and unsettled as one can imagine being possible, we set out trying to find a school for Aarush, in our new abode, Mumbai. We meticulously went to all the different schools with the plethora of questions on our minds – blatantly unable to mask the apprehension we were feeling at the time. Its then that a colleague suggested Vivero to us – I still remember the first time I came there and was absolutely blown over by the infrastructure, facilities and the credentials of the staff, and both Simrata and I still remember almost jumping for joy when you confirmed Aarush's admission.
It's only once school started that we truly realized that this was no ordinary school – many schools have good infrastructure, facilities and trained staff. But the love and affection that we saw that you and staff have for the children in Vivero is truly par compare. I still remember that in one of the parent teacher meetings, the teacher even knew the name of Aarush's grandfather's pet! Never once expected this level of care and personalization in a world where everything is about the money and transactions. And it didn't stop there – in every interaction with the school, this impression was strengthened even more i.e. in parent teacher meetings, school events, etc. Still distinctly remember the event by the Powai lake – how well done was that! The list goes on … Spanish day, sports day ….
And then the annual day. When I saw 2 kids on a stage, dressed up like anchors that host award shows on TV, I thought to myself this can't be possible. Kids this age can't pull this off. But again Vivero surprised us. Not only did the 2 children all by themselves without any supervision and intervention from any staff anchor the show flawlessly, but also all the other children that performed on the say did an absolutely stellar job. And surely this was all thanks to you, your staff and your teaching principles & philosophy of instilling confidence and helping each child truly discover themselves and their potential.
In a span of 1 year, Aarush is today a confident, extremely social and expressive young child. He takes a lot of pride in speaking about Vivero and all the things he's learnt and the fun he's had there – a testament to the schools philosophy of learning with fun. He's clearly learnt a lot and so have we – our little ones are actually confident individuals, and if given the right guidance and care will blossom into happy and successful adults.
Thank you so much for letting me be a part of your family. For this, and for some of our happiest moments in the last 12 months of our lives, THANK YOU!
- Nitesh and Simrata,

Aarush's parents

Just a note of appreciation to thank you all for the lovely show at the Annual Day celebrations, it was so well done. Manuel was so excited and happy as were all the other kids! One can easily make out the hours of effort that went behind getting the kids, props and other arrangements into place. A special thanks too, to the support staff- the didis and security who kept things smooth. This may be my bias opinion, but PN1 was our favourite part of the show! :-) Thank you also for Cesar's lovely flowers, we were taken by surprise!
- Pallavi Jankiraman,

Mother of Manuel Jankiraman (Pre- Nursery)

As we come to the end of the term I would want to reiterate the fact that each one of you make a difference in the life of our children. My daughter's class teacher and I are testimony to the fact that Nandika turned into a new leaf from being a shy back bencher to a much more interactive person! In fact the class teacher even said the change came on the day they were asked to dress up as their favourite animal so even remembering days and dates of each child is a challenge which was done.Hope this journey continues as beautifully as it started with PN1. N1 is almost over and very pleasantly and now we will slowly look forward to the next class / new session.
- Urbi,

Mother of Nandika (Nursery)

We are so thankful to you all for putting such a fantastic day today. We were awed and someone rightly said we live our own childhood with our children. I have seen Nishil growing as a mature child and thanks to you all.
We all applaud the teachers for their dedication and energy they brought to the performance. It was clearly visible. At the end Nishil saw his teacher on stage and clapped saying my Teacher.
- Sonal,

Mother of Jasleen (Pre-Nursery)

I have seen my daughter progressing a lot with Vivero. She tries to communicate and has learned so many new things over this year that even sometimes, I end up learning from her. My little baby can now identify colors, days, months, numbers, and has grown fond of writing and reading. Now I have to prep myself to read out her favourite books.
I should also not forget to mention about the Spanish class. It's a great thing. She comes home saying "hola" and "gracias" and many other Spanish words.
I am very happy to choose Vivero for my daughter and hope for being associated with Vivero in future as well. I hope you come up with High school soon. I would love to enroll Kiara at Vivero for further studies too. (Excerpts from a letter of appreciation)
- Geeta Chhugani,

Mother of Kiara Chhugani

I have seen my daughter progressing a lot with Vivero. She tries to communicate and has learned so many new things over this year that even sometimes, I end up learning from her. My little baby can now identify colors, days, months, numbers, and has grown fond of writing and reading. Now I have to prep myself to read out her favourite books.
I should also not forget to mention about the Spanish class. It's a great thing. She comes home saying "hola" and "gracias" and many other Spanish words.
I am very happy to choose Vivero for my daughter and hope for being associated with Vivero in future as well. I hope you come up with High school soon. I would love to enroll Kiara at Vivero for further studies too. (Excerpts from a letter of appreciation)
- Geeta Chhugani,

Mother of Kiara Chhugani

I still remember Siddharth's first day at Vivero, everything was so new to him. A few days down the rest of the kids settled in but not my son. I still remember that first month - being with him in the class and finally leaving him with his teachers. They were amazing teachers, caring, affectionate, loving, you name it they had it all! I want to thank the both of them and the School Head for taking care of him and building his base so beautifully. Siddharth's shift to Nursery was another testing time but his Nursery class teacher was just as good. I want to thank all his teachers for getting him to this level and for being so caring and loving. It was great being associated with Vivero. We would always love to be associated with such wonderful people.
(Excerpts from a letter of appreciation)
- Tanisha Sapru,

Mother of SiddharthSapru

Kaavya grows with the School's value systems. Her learning has been so reformative and channelized. She has become outspoken, and explores her environment, through processes learnt at the school.
- Puja Karnavat,

Mother of Kaavya Karnavat (Nursery)

Rarely do you find a space that is created with such sensitivity, which is child centric, aesthetic and hygienic. A major reason for choosing Vivero was 'space', as I believe a healthy space, allows a child an opportunity to grow inwards as well as outward.
- Rashi Bunny,

Mother of SamagrSakshi (Nursery)

Vivero is a home away from home for my son. The school has promoted the development of a broad range of skills in him. He always got an opportunity to grow his curiosity and imagination, to represent ideas and situations. He has been encouraged to reflect on his personal experience and activities, which has helped in deepening his knowledge and understanding.
- Dhanya Renny,

Mother of Rohan Renny (K I)

Over the last 10 months Shiv has grown to love his school experience and routine. He enjoys the music and activities conducted in class. Interaction with other young children of his own age has been a positive learning for him.
- Ketki Sathe,

Mother of Shiv Sathe (Pre-Nursery)

Seher's linguistic skill was always very good, but the various engaging activities at Vivero have honed them further. She is now able to describe her day at school in detail – from the books she read to the games she participated in. She has even understood and memorised words and numbers.
- Priya Ramteke,

Mother of Seher Ramteke (Pre-Nursery)