Pune - Kalyani Nagar
Vivero International Pre-school & Child Care, Kalyani Nagar is nestled in 10,000 sq.ft. of safe and secure environment. It caters to the needs of children between the age group of one and a half to six across five grade levels.
We are inspired by the Reggio Emilia Approach and believe that environment is the third teacher. Our outdoor and indoor spaces are conducive in encouraging children to inquire, think and learn.
Children have access to various activities throughout the day. The Atelier of light never ceases to fascinate them. Our Reggio inspired environment is created by out Atelierista. Children work and explore various materials and textures to create art projects.
Our teachers consistently observe children to understand their needs and monitor their progress. Our teachers are researchers and believe in the pedagogy of listening.
Classroom displays include children's original artwork, among other examples of their work. Children learn numbers and the alphabet in the context of everyday experiences. Meaningful activities like cooking, taking attendance, or weekend recount provide the basis for learning activities. Children are encouraged to understand appreciate and create music and to express themselves through murals or pottery in our outdoor spaces. Children are encouraged to read books from their class bookshelf and their teacher reads one to them every day.
We share a positive and open relationship with families. We partner with parents to optimize their child's learning. We live up to the meaning of the word Vivero – a place where life is nurtured.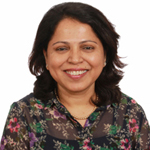 Ms. Poonam Warty – School Head
With a Bachelor's degree and a certification in Montessori training, Ms. Poonam has an experience of over two decades in Early Childhood Education. During her tenure in Indonesia, she initiated the commencement of the IB accreditation process as PYP (Primary Years Programme) Co-coordinator. She had the opportunity to work in a mainstream and an international school in India.
Ms. Poonam was inspired to do a lot of research on how to integrate the Reggio Emelia Approach into preschool by striking a good balance with "academics" when executing the preschool program. She embodies that innovation, research and adaptability are the key components of lifelong learning in a preschool leader!