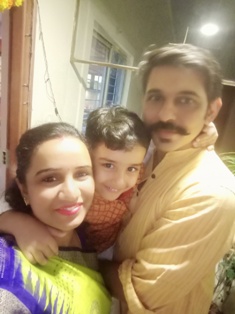 It's been a long journey for Vedansh with Vivero.
If I recall the 1st day of child care, I can see a crying baby of 14 months old and a mother having so many thoughts in mind. How they will take care of my baby? Who will be there to hold him when he is crying? Who will be there to ask him for food when he will be hungry. He was so small to express his thoughts, to walk down to someone.
But this is the 4th year for him, and he calls Vivero as his second home. Even if he has moved to some other school, for him his school and child care is still Vivero.
I would like to thank each and every staff of Vivero child care the way they have groomed our kid. The trust we have now with the childcare can be seen in the form of our friends who has their kids now in Vivero.- Sandip & Subhashree Mishra, Parents of Vedansh, Child Care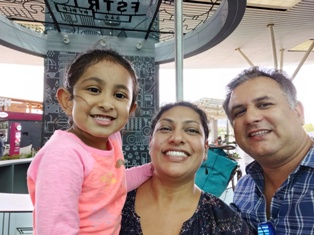 The one and a half years our daughter has been with Vivero Daycare, she has grown into a social, confident and independent little girl. Team Vivero has given us peace of mind, as we know that our little baby is in a safe, caring and fun-filled environment every day.- Namrata & Brendan Jacob, Parents of Caia, Child Care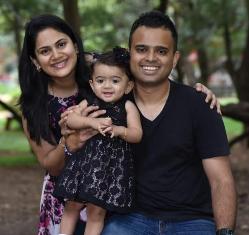 We enrolled Avishka at Vivero Daycare when she was 18 months old with some apprehension. And now words cannot express the thanks that we have for each and every daycare teacher/support staff over the last 1.5 years.
The bright open spaces and the warm way in which the teachers interact with each child every day is something which we deeply appreciate. The daycare facilities, care and food has helped Avishka pick up the right habits and involve herself with kids her age.
The support staff are the backbone of every daycare and at Vivero they are wonderful with the kids and we appreciate the effort taken to hire the right people.
Sending Avishka to the Vivero day care, has made us realize that she is in very capable hands and is growing up in the right environment to be a bright and cheerful kid. - Achaiah and Kavya, Parents of Avishka, Child Care

We as parents are very happy and satisfied by the excellent job done by the teachers. Our son Aadyah has had the most amazing time at Vivero. He looks forward to going to school everyday. His progress has been remarkable! As parents we initially had separation anxiety but now we are more than satisfied to know that our child is in safe hands!- Manjul Dixit, Assistant VP, J P Morgan

In a short span of time our child Supriya has settled in well and we are happy to see her progressing everyday. Vivero team is doing an excellent job in shaping the children emotionally and their approach is appreciable!
The staff has a beautiful smile which makes us feel comfortable and at home. Thanks to the whole team and specially the teachers for taking care of our daughter so well! - Krishnapriya, Software Engineer, GE

I wanted to thank you for all your support over the last year. Aman has had a wonderful introduction to school life, thanks to you and all your wonderful teachers and helpers. I feel confident that Aman will continue to blossom and grow at Etonhouse, having had a good strong foundation in such a caring and nurturing environment at Vivero. A big thank you to all of you. Please do keep in touch. My best to everyone at Vivero.- Ambika , Aman's Mother

We have been at Vivero for three months now. The school surpassed all of our expectations, which I admit were quite high.
When we were searching for a preschool, we were looking for a place with a nurturing and safe environment and that is exactly what we found at Vivero. From the moment the children walk in, they are greeted by the Principal with a smile. Then the children proceed to their respective classrooms to find their teachers waiting for them with exciting activities, who btw are all amazing, patient and loving. All of the teachers we have had have gone above and beyond to help each child learn and grow. My little one loves to go to school and come home and tell me about what she has learned in school. These days even on weekends and sometimes after the afternoon naps she is all excited and asks whether she has to go to school now. But, what I truly love most about the school is that it feels like everyone there - from the principal to the teachers and staff(even the ones who are not directly involved with the little ones) - know and care about your child's growth and well being. It may sound corny - but Vivero does feel like an extended family!! :)
- Sneha & Jayesh,

Parents of Ojasvi ( Prenursery)

A child when he or she turns two every parent thinks of putting them to a good school where they are cared as at home. We too started hunting for a school for our daughter. We hardly got any reviews about the school since it was a new one. Quite often, it is a dilemma of parents whether to find a school that has continuity up to higher grades or a school that is devoted to building a foundation for a child. Understanding the importance of this vital difference, we decided on the latter - a strong foundation would definitely benefit our daughter, Eeshanvi.
Honestly, we did not go by the term "International" in the name of the school. It's only when we saw the environment, interacted with the principal and the teachers that we decided that this could be a right place for our child. We saw only a small bunch of buds initially so thought our daughter would get personal attention. As two years passed crowd has improved but the care and attention is same or better rather. Over the last couple of years, we witnessed tremendous growth in our daughter - a child confident of asking questions, bold enough for creative imagination, inquisitive to learn and never losing her childhood enthusiasm. This could not have been possible without the overall atmosphere within the school, including fellow companions.
As parents we are happy about our daughter that at Vivero school-she was taught to be social, to respect elders and even her classmates. Well organised institution with a planned curriculum. As in other regular schools overloaded with homework children here are stress free with learning in a fun environment with music and so. We get weekly newsletters of what was done at school and even monthly newsletters which always helped us to know and understand what our daughter knew and where we could help. We got to know the depth of their knowledge through various programmes like culmination at the end of each unit they were taught. The hardwork of the teachers and the staff is to be mentioned at this moment.
Our daughter is now at the juncture where she will move on the higher grades in another school. Our only hope is that she gets to retain the similar enthusiasm and interest that she had to go to Vivero School. Thank you to all the staff and fellow parents for making this journey along with us and in successfully transforming it into a memorable journey. We whole heartedly wish you many more successful years ahead in helping build a child's mind. Keep spreading this joy of knowledge and discovery.
- Reshma and Praveen,

Parents of Eeshanvi (K1)

I and hubby were finding it extremely difficult to select a good playschool in Bangalore, because so much was riding on our choice. We would ask around, go on interviews, and seek the advice of others. After visiting many schools we could finally find one where our queries were heard and addressed patiently and after a detailed discussion with the Principal, Ms. Sharayu Thampi of Vivero International, we knew that we made our decision. Since her first day of school at Vivero, Charvi has been spending her days in an enjoyable and nurturing environment. All her teachers seem to be interested in getting to know her and school has a welcoming, friendly atmosphere and stimulating curriculum. I would definitely be choosing Vivero as my younger daughter's preschool too :-)
- Pooja Tyagi,

Charvi Tyagi's Mother (Pre-nursery)

I carry abundance of respect and gratitude to you and your staff for the compassion and upliftment to 'Nayana' at Vivero. I'm quite certain and confident she must be loving your team and the school.
Nayana will have sweet memories for life time to cherish at VIVERO. My best wishes and prayers with you all. Bottom of my heart I thank each and every staff member there in Vivero. Thanks a ton for your love and affection to 'Nayana'.
- Balavenkata,

Parent of Nayana (Nursery)

Vivero has been an amazing journey for Pakhi, full of excitement, fun, joy and love. For records, I must say Vivero was the first school we enquired about when we were travelling on roads in search of school and we end up having her enrolled there itself and undoubtedly we didn't regret a bit. Every first thing in life is quite special in itself and so does this is for us. Our first kid, her first summer camp, first school, first lunch box, school bag, dress and so on. We were little apprehensive (like any other parents) if Pakhi would be able to adjust, but her two days of tears converted into million $ happiness and fun. I must say she learned and enjoyed thoroughly. The changes in her were apparent and most of the credit goes to the dedicated team @ Vivero. On that note I would like to give a big applause and gratitude to team Vivero for all the support and love they have showered on my little angel Pakhi. Keep up the good work.
-Gaurav Agrawal,

Parent of Pakhi Agarwal (Nursery)

I am extremely proud that my child is a part of your wonderful school. Abhiram is making huge progress in his activities and his communication skills have improved ever since he joined Vivero. I would like to thank all his teachers and the wonderful staff for the excellent care given to my child.
- Rakhi,

Mother of Abhiram Kumar (Nursery)

We congratulate and appreciate your wonderful efforts towards the children. We are very happy with our decision to enroll our child at Vivero. He is very happy to be in school and he always talks about school and his teachers.
- Smitha Beena,

Mother of Franklin (Nursery)

A child's first school is always special and I am glad I enrolled my child in Vivero. I particularly want to thank the teachers for being so patient. They are always open to suggestions from parents on the learning process and make sure they act upon it too.
- Shikha Kanodia,

Mother of Siddhar (Pre-Nursery)

We had a great evening. It was heartwarming to see all the little wonders perform on stage with such elegance. Although it has been only close to one and a half months that she has joined the Vivero family, we have seen the confidence grow in Ojasvi, she too loved performing and couldn't stop beaming about it the whole evening :) Kudos to the whole team of Vivero Whitefield, the efforts clearly paid off!!
- Sneha and Jayesh,

Parents of Ojasvi (Pre- nursery)

We cannot begin to describe how thrilled and goosebump-y we felt after the annual day. The quality of performances, the absolute confidence with which the kids came on stage and performed and the seamless flow of the show left us speechless. For sure, it didn't seem like the kids were aged 3-5. Thank you for the best 2 hours of our life in a long time. Specifically with Vedant, we (Chanakya, I and his immediate family) are amazed to see such a confident boy emerge. Being genetically disposed to a bit of shyness and introvert nature, we were speechless with the confidence with which he faced the stage. Short of a magic wand that must have been waved on him, it clearly shows a huge amount of love, encouragement and toil that the school has showered him with to enable the change.
We'd just like to say a huge thank you to you for being who you are, nurturing Vedant like how you have and helping him grow, at the same time letting him be who he is.
- Aishvarya and Chanakya,

Parents of Vedant (Nursery)

Let me introduce myself as the grand father of Aishvarya and naturally the great grand father of Vedant, your student at Viverointernational.
I have seen the exchange of correspondence between Aishvarya and you on the Annual Day Celebrations of your school. Vedant, somehow, is my favourite great grand child. I happened to visit his school on his insistence when I happened to be at Bengaluru last month. I immensely appreciated the entire atmosphere. Vedant was very proud of his school and his teachers. He took pleasure in taking me around the school with great enthusiasm. I always held Vedant slightly introvert in that though he was higly communicative with his very close relatives, he used to be a little reserved outside this circle. Why I am giving so much of preamble, is that how did I find Vedant so free of stage fright and mingling with all with great ease. I happened to see the video of the function sent by Chanakya yesterday and communicated to Aishvarya to compliment the school teachers the great efforts they had put in to not only staging the show professionally but also to bring out the best from the children. My congrats to all of you. Mine is totally an unsolicited compliment arising out of my sincere appreciation. Your school is laying an excellent foundation for the children and I am sure that these children will be very fine ambassadors of your school in times to come. May God be with you in all your efforts.
- L.Rajagopalan.-

Great Grandfather of Vedant (Nursery)

I must congratulate you and your entire team for putting up a great show. It was very well managed from the Start to the End. The good thing is that Ruhaan (& I am sure the other kids as well) enjoyed participating in the event. Though the kids were practicing for so many days, but never did Ruhaan say that he is tired and doesn't want to go to the school. In fact he used to tell us everyday what his and others lines (to say) & dance steps were. A big "thank you" should go to all the teachers and support staff who have put this all together...
- Vivek & Sheetal,

Parents of Ruhaan (K1)

Firstly, it was a privilege to perform for our son's first annual day concert as a whole family. So, once again thank you so much for giving us the opportunity.
Secondly, the entire concert was orchestrated in a beautiful way be it the Venue, the Dress Code of the teachers, the Theme of the programme, the Choice of Songs and Dances and most importantly the Timeliness of starting and ending the show, being some of the highlights.
I would like to specially congratulate Ms. Elmina for her fabulous performances that stole the show for the evening. My hat goes out to her and the children that did the ballet and the "Let it Go" song.
Overall, we are very very pleased to have our son studying in Vivero for many reasons of which, the most important being a truly Charismatic, Inspiring, Loving and a very Caring principal.
- Vanita Siddarth ,

Mother of Rishabh (Nursery)

My hearty congratulations to team Vivero - Whitefield for the beautiful Annual day 2015 you presented to us today! I would like to appreciate all the teachers and care takers for their efforts, standing tirelessly to make the event different, successful and a memorable one. I felt there was something to carry home for everyone. Thank you once again for the lovely evening!
If you have to decide for the employee / teacher of the month / year then it goes to each n everyone at Vivero! :) My sincere thanks to Ms. Chandani who always make me so comfortable by her smile and kind words...Being a mother of a toddler is truly a roller coaster ride and now I feel choosing Vivero over any other school was the best decision I have made so far. Well done everyone! Keep it up!
- Naseem ,

Mother of Suhaan (Nursery)

First and foremost congratulations for the success of a great show with lot of talent and spirit. Firstly the program was well organized went on time without any drag and was very colourful. Few parents got a chance to speak about their experiences with Vivero,I would no doubt recommend Vivero to any child at my will for that matter. I think none of the parents mentioned about children's safety at vivero school as in the present scenario Bangalore is bad at it. I am extremely happy and content with the fact that Vivero puts the child's safety as prime importance.
- ReshmaPraveen,

Mother of Eeshanvik (K1)

I am extremely proud that my child is a part of your wonderful school. Abhiram is making huge progress in his activities and his communication skills have improved ever since he joined Vivero. I would like to thank all his teachers and the wonderful staff for the excellent care given to my child.
- Rakhi,

Mother of Abhiram Kumar (Nursery)

We congratulate and appreciate your wonderful efforts towards the children. We are very happy with our decision to enroll our child at Vivero. He is very happy to be in school and he always talks about school and his teachers.
- Smitha Beena,

Mother of Franklin (Nursery)

A child's first school is always special and I am glad I enrolled my child in Vivero. I particularly want to thank the teachers for being so patient. They are always open to suggestions from parents on the learning process and make sure they act upon it too.

-Shikha Kanodia,

Mother of Siddhar (Pre-Nursery)

//